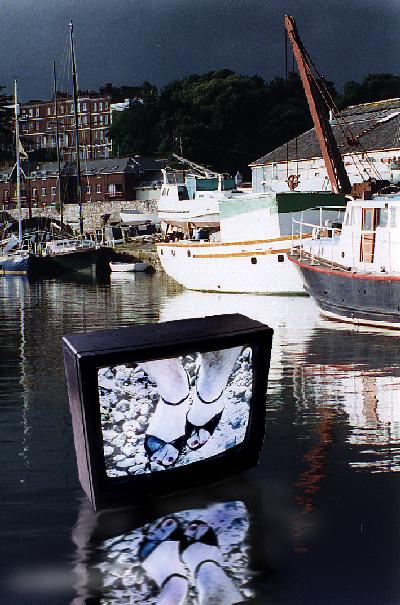 Site specific work allows you to incorporate the unplanned and volatile events of real places and make them part of the experience. Treading Water ended with two performers leaving in a boat and the other three roaring out of the space in a Landrover taking most of the kit with them and leaving the audience alone in the dark. On the first night, seconds after the landrover had left, a huge low flying aeroplane taking off from a nearby airport flew directly over the site. Several people thought we'd planned it .
TREADING WATER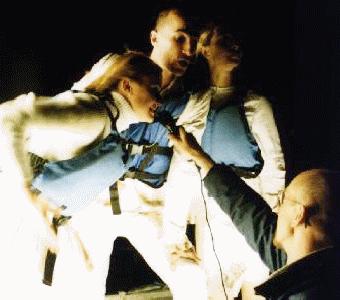 This was a site specific performance commissioned for The Quay Thing - a festival of site specific work in Exeter organised by 'Wrights and Sites'.
Treading Water took place in a boatyard on Exeter Quayside, was concerned with how the history of a site is constructed as much from lies and fictions as from historical truths. We used text from Henrik Ibsen's "Enemy of the People" - along with many layers of stories, anecdotes and lies about the place collected during our residency there.
The piece was performed at dusk and included video and slide projections projected onto wrecked boats, tarpaulins, scrap wood and metal from around the site.
We used a tonne of old books - creating random text for the performers to work with during the improvised sections. We also used songs layered with various other found sounds and music. The complex layers of sound and stories existed within a structure supplied by the text from the Enemy of the People --- the performers acted out six edited scenes from the play which provided moments of stylised theatricality. There was also a Landrover and a rowing boat used for getting the performers away from the site quickly in the final moments of the performance.