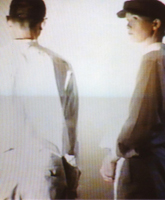 What was achieved, by technology and the two players (Liz Swift and Peter Ireland) was an extraordinarily pleasing sensual fable for these computerised times where the video dictates what we will remember. Every Fringe needs a show like this. Hayden Murphy, The Scotsman
2 EARNEST - A TERMINAL MEMORY
Cyberpunk and historical romance featured in this video/performance project which used sections from Oscar Wilde's The Importance of Being Earnest alongside a wide range of old and new technical equipment including: reel to reel tapes players, telephones, radios, live video camera and super 8 film.
A four track sound score was used to create a sound environment which preceded and succeeded the performed action during the piece's three week run at Edinburgh Festival.
This piece, for two performer/technicians, started to explore identity as an infinitely interchangeable commodity The he theme of the piece was memory and losing it. The main task of the piece, which occupied the performers in different ways during the show's life, was how to record your body's actions and thinking so completely that real presence becomes a silly luxury.

Surrounded by technology that tracked their every move the show ended with a series of disappearing acts by the live performer. Finally, with the performers gone, the technology takes over the final scenes and completes the story.